I've got a favorite biblical citation: Proverbs 22:29 says "Seest thou a man diligent in his business? He shall stand before kings; he shall not stand before mean men".
My father, by all accounts, was indeed a diligent man. His steadfastness in work, in friendship, in generosity and in parenthood touched all who met him.
Diligence took my father from the unfocused ambition of his childhood – he told his father "I either want to be a priest or a bum" – and took him from what for many of us would've been academic drift at college, into the courts of Alabama, where he first learned to write and report a story.
His diligence saw him through a rollicking time in South Carolina politics, into interviews with the famous and infamous for papers all over the South, and brought him into contact with the powerful in Washington.
In his life, Dad met every president from Eisenhower through Nixon. He was friendly with LBJ.
My Dad changed your life: he coined the phrase "ZIP Code" and popularized the use of ZIP Codes, and though he's denied it, he HAD to have been the model for the Mr. ZIP character*. I look at Mr. ZIP and I think "That's my Dad".
As a reporter, Dad met claimed to have met Marilyn Monroe, and pissed off Carmen Miranda with an impertinent question about her "natural good looks". That's my Dad.
My Dad never flew in a plane. He lost drawing straws for a ride with a barnstormer. The plane crashed, and as a result of his bad luck that day, I exist, and so do his grandchildren.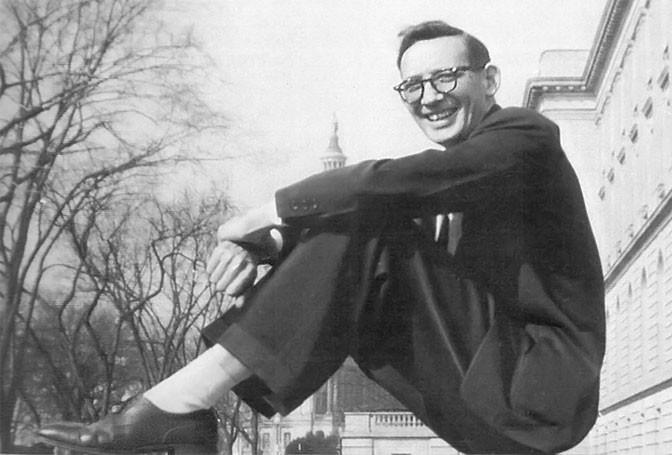 And did my Dad "Stand before Kings"?
Dad told us that he met King Baudouin of Belgium at a social function in Washington. Baudouin was looking for a drink, and my Dad was kind enough to locate one and bring it to the king. Later that evening, The king asked Dad if there was someplace nearby where he could get a drink. My Dad told him he'd take him to a nearby bar, but only if the King would write a note to his wife – my Mom – explaining why Dad was out late…Drinking with the king of Belgium…that'd make it alright.
The evening wore on, and eventually Baudouin took his leave. Moments later, my Dad realized that the King hadn't penned the promised note. Dad hopped in a taxi to follow the king to Blair House (the White House's guest house for foreign dignitaries). Dad tried for a while to get the guards at Blair House to call the King down to write the all-important note, and eventually one checked inside and was told Dad would have to come back the next day. By the next day Dad had sobered up and realized he'd probably better not go back to Blair House. That's my Dad.
My Dad raised 3 sons, was generous, always polite to strangers. A raconteur. A joke teller. A player of Liar's Poker. A doer of crosswords. An author. A man who stood before Presidents and Kings.
And he loved us, and was good to us.
That's my Dad: D. Jamison Cain.
*Update 9/2018: Mr. ZIP was actually adapted from a character created by Howard Wilcox,
says Wikipedia
.